The in-app PowerPoint (PPT, PPTX) conversion uses Apple's iOS Quick Look technology, which may not be able to render all powerpoint slides properly (or, at all in some cases).
Note: If you want to keep using PowerPoint slide decks and you use a Windows PC (PowerPoint for Windows) to create your slide decks, be careful to use fonts that are also available on Apple (macOS and iOS). This article from Microsoft support (see the "Texts and fonts" section) can help avoid a font-mismatch that will often lead to improper PowerPoint slide conversion on Apple (including in Projector).
To overcome this limitation, you can also choose to render the slideshow on the device that you create it (PC or Mac) and convert the slides to images. That process takes more time and effort, but will guarantee "pixel accurate" representation of each and every slide, since you are using the native platform that the slideshow was created on.
Here is an example workflow using PowerPoint for Mac. The workflow will be similar for Keynote and other slideshow apps, including PowerPoint for Windows.
Step 1: Export your slideshow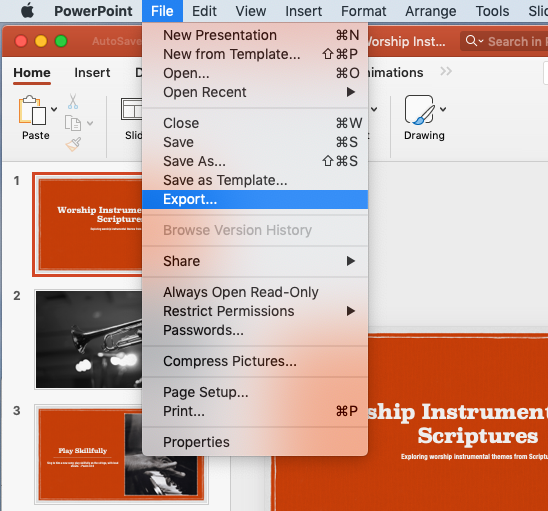 Step 2: Choose PNG format image (you can also choose JPEG if you want, but it's trickier)
Step 3: Choose image resolution and destination to save. The smaller resolution will take up less space in your PCO Services cloud and may be "good enough". But if you really want to see every detail (you have a 4K screen - woah!), you can make the resolution something bigger to see every 'jot and tittle'. Just be sure to keep the same aspect ratio as your slides were created in. The program will usually help you do that (change Width and Height will automatically follow) - depending on what program you're using, of course. in this example, 720x405 represents a reasonable 16:9 aspect ratio to start with. You can amp it up to something like 1920x1080 for a true HD resoultion, but beware that the images can start to get pretty big...
Step 4: Open Finder (Explorer on Windows) and look for the folder containing the images that were saved
Step 5: Right-click the folder and select the "Compress..." menu item. Older MacOS will say "Archive" but it does the same thing - makes a ZIP file of the folder, containing the files.
Note: You may also multi-select the individual files, then right-click and "Compress..." them into a ZIP file, which will make a ZIP of just the files (not the containing folder). Projector supports both kinds of ZIP files and will recognize them both as "slideshows".
Step 6: See the ZIP file that was created. This is what you will upload to PCO Services. You can also rename the file before uploading to PCO Services if you want to.
Step 7: Open PCO Services and create a new 'plain' Item (not a Song or Header). You can also create a Media item if you want to save your ZIP file as a "Powerpoint" Media item, but that's not what we're demonstrating here. Right click the little 'attachments' box to the right of the item and you can add the ZIP file as an item attachment.
Step 8: Upload the ZIP file that you created (we have renamed it to Archive.zip in this example).
Step 9: Click Done and then, in your Plan, right click once more on the item attachment box - you should see the ZIP file. NOTE: do not add more than one attachment to the Item if you want WorshipStorm Projector to automatically create the slide deck for you. If you mess up and add more than one attachment or media item, it's still ok - you might just need to manually choose that ZIP file as the Item Background in Projector to get it to load as a slideshow.
Step 10: Open up Projector and - voila - you have your ZIP slideshow ready to present!