Use one iPad/iPhone as a master device and then connect other iPads or iPhones as clients. When you change slides on the master device, all connected clients stay in sync. The master device can even allow one of the connected clients to take control.
Start a session on your master device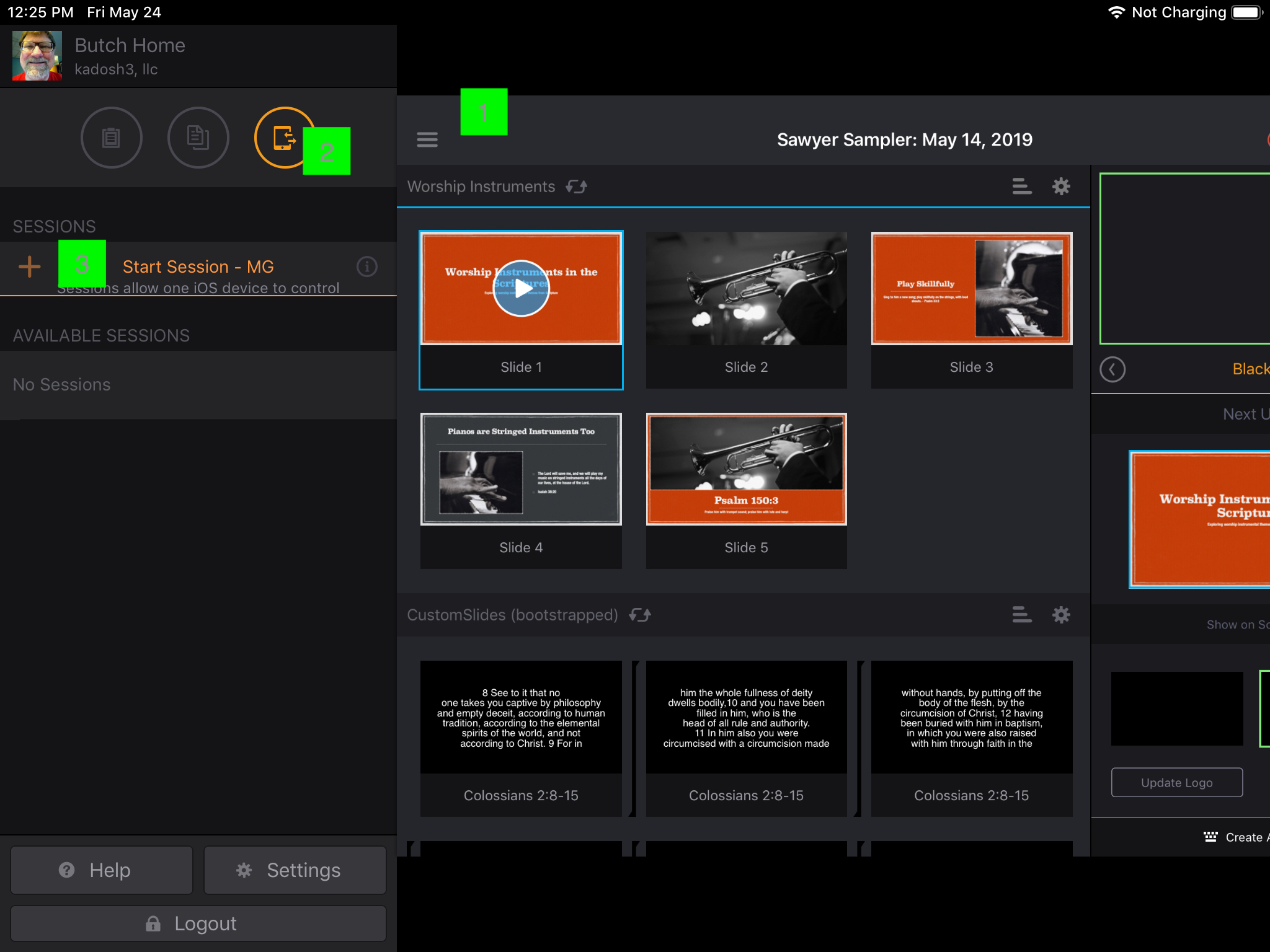 (Before starting a session, make sure you have the right plan loaded)
Tap the menu button at the top left to open the menu sidebar

Tap the sessions button at the top right of the menu sidebar

Tap the "Start a New Session" button
Join a Session on a separate device
Follow the steps above on your second device, but tap the name of the Master Device under "Available Sessions" to join the session.
IMPORTANT:
Sessions work over WiFi or Bluetooth, so make sure all devices are joined to the same WiFi network, or are within 30 feet of each other with Bluetooth turned on.

The names of the devices you are using must be uniquely different, or you will run into problems staying in sync (see "Settings -> General -> About -> Name" on your device)
Choose the Display Mode
Each Client can connect to the Master in 1 of three modes:
Mirrored mode - (default) shows the same screen on the client as the master.

Confidence mode - shows the current lyrics and one additional line of lyrics on a black screen for your on-stage musicians.

No lyrics - mode hides lyrics and shows backgrounds only.
The client is connected and syncs up to the master
The headers change color to reflect the state of the device. The Master (primary device in control) has a GREEN header, and any Clients (devices being controlled) have a RED header. Changing slides on the Master device will now update any Clients as well.
Allowing a client to control other devices
The master device can allow one connected device to be in control by checking the "Allow Control" button in the sessions popover next to the appropriate device. When this box is checked, the header of that client device turns from Red to Green indicating it is now a device in control. The Master device heading continues to stay Green, indicating that it is also still a Master, because even when another device is in control, the Master device can still control. The Master device ALWAYS has the option to control and to give another device control.
Use cases:
Pastor/Speaker controlling message slides: Allowing control is a great way to hand off control to a pastor who wants to control their own message slides, but have someone else run the lyrics and the slides for the rest of the service.

Remote control a stationary device: This is also very helpful if you connect Projector directly to your external screen using a cable, because you can use a secondary device to wirelessly control the device that must stay stationary due to the cable.